What is VersiGrid™?
a premium quality equestrian footing & flooring plastic grid system,
Please accept no substitutes.
Providing a sustainable mud control alternative
when compared with conventional gravel/geotextile or other traditional basic short term fixes
The solution . . .
No more muddy paddocks, turnouts or drylots ever using the VersiGrid™ System!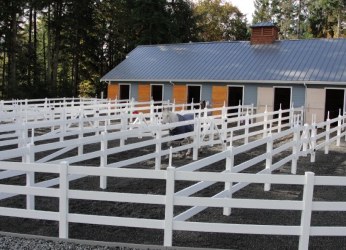 Perfect paddocks all year round.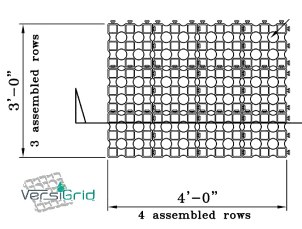 How Strong is it?
During installation, maintenance, or normal usage, earthmoving equipment, tractors, steamrollers or fully loaded dump trucks may be driven on top of the grids.
Because the entire systems interlocks ...
... no more worries about shifting stall mats, trenching, digging,
or pumping of the drainage sub soil or gravel base
Permanently retire from your paddock improvement career...
... and forever forget the 'spread 6-12 inches of gravel and replace regularly' system.
The grids permanently separate the top layer from the ground sub-base, preventing intermingling of the layers.
In some conditions, little foundation work may be required.
In the rest, much less stone is required, and never needs replaced!
Strong and flexible!
The system is manufactured from recycled plastics.
Making VersiGrid™ able to withstand climate extremes from -58° to +194° Fahrenheit
while remaining flexible.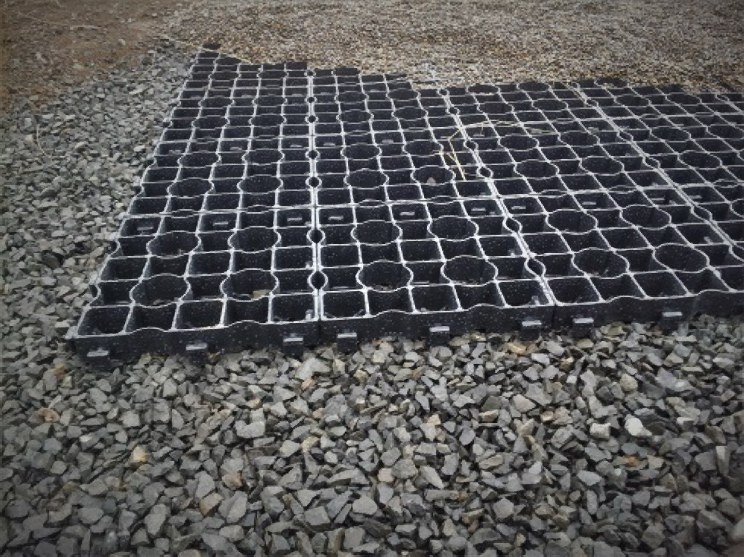 many project are do-it-yourself friendly
Often only a one-person-job.
3 Grades of Product to meet just about every application you can think of!
VersiGrid™ M/D1.5
12"
x 12" x 1.5" High/deep makes it more versatile and stable in the ground
VersiGrid™ H/D2.0
12" x 12" x 2" High/deep and thick cell walls makes it heavy duty strength
Load-bearing capacity up to 35 tons / sq ft*
(*When correctly applied )
For most equestrian applications the VersiGrid™ L/D & M/D grades are sufficient.
Some projects and climates may require VersiGrid™H/D.
In those cases requiring heavy-duty grids, the extra cost per unit is often offset by
the decreased foundation requirements (sub-base), top layer and maintenance costs.
... More information:
» VersiGrid™ Technical Data and Material Specifications Sheets, Environmental attributes,...
Ready to find out what it takes for you
to be mud-free also!
We can provide you recommendations,
answer specific questions, and get you a quote including delivery
Give us a call at (425) 657-7958
Or
actual price may vary...
______________________________________________________________________________________________________________________
*when properly installed
**For more information about this transition and what it means to you,
If errors are found please